A long awaited update, Image Intense.
A long awaited update (assuming anyone still reads this. If you do, please let me know. Kick my ass into updating more. Thank you!)
So I've been neglecting this blog because of personal reasons. First, the whole Deglan thing. That's still not getting any better and the hurt is still not going away. Go figure.
Secondly, ROOT CANAL. I had a root canal a few weeks ago and it's been agony recovering. I still have to get the post and core set, so until then, my mouth is pretty much screwed.
Thirdly, a lame excuse, Spring Break. Two (Three? I've lost all concept of time) weeks of spring break are here. And I've been sleeping like there's no tomorrow. Nina and I went out clubbing on Wednesday night, which was great, considering I don't get to
Nocturne
As often as I'd like. It was pretty awesome.
The whole city dies down after about 11 PM, And certainly any signs of life are extinct by two when the club lets out. So we were roaming the streets until the train station opened again at 5. Some good stuff. I'll possibly post more about that later, as it gave me inspiration for my first collection. Go figure!
Yesterday I had an interview with Craig of
Loop Yarn
For a job at the new opening store (Center City Philadelphia, people....Go there.). I hope I get it. I believe I also gave him the blog address, so if you're reading this....Hi!
I felt a little inadequate. He said he had a lot of responses to the ad, which was great, but I really already doubt I'm going to get the position. Every time something great comes along, fate screws me out of it. Also, I hate weaving in ends. A lot of the samples I brought the other day had loose ends. I felt like an amateur.
It was interesting. I walked into the store, and I think I was stunned. Yarn, yarn everywhere. Those of you who have been yarn shopping with me (Zach, I think.) Will know that if you drag me into a yarn shop, I'll start drooling. I believe I've been likened to a crack addict in a crack store before. Of course, I did liken yarn to crack during the interview, which I guess maybe was a little uncouthe. Oops. I think it went well though. I dressed up, not looking so much like a raggamuffin as I normally do. I even managed to find a pair of pants in my wardrobe without chains on them.
It was the first time the SEPTA ticket agent had asked me if I was travelling during peak hours. And if you know, peak hours mean rush hour. Rush hour means business people. She said I looked like a peak person. Which made my day, pretty much. It meant I fit the image I was trying to get to a tee.

It was such a rare occasion, for me to get cleaned up like that, that my mother even took a picture.
I promised you all updates on knitting, too.
Crefeld's StockFestPalooza was a great success. The library (IE: Me) made about $40. I sold one of my scarves, a hat, and some trinket jewlery, and I recieved comissions for several other things, including a Dredlock hat (complete with a real dreadlock care of my friend Drew), and a scarf made from Rowan's Kidsilk Haze. Mucho caro! (Way expensive!). Wow. Of course, that's Zach's.
I've also been knitting up a frenzy to get some stock before I go live with my website. Which I've been having issues with. Please do me a favor and
check it out
. It looks fine on my browsers (AOL and IE) but it looks crazy on Firefox and Netscape. Any suggestions???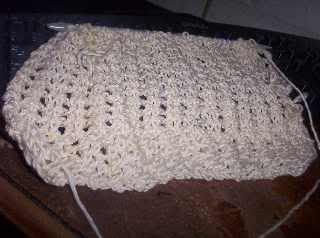 I also gave up on the Swallowtail shawl. It was too much to handle in the time period alotted. So I'm doing just a simple Knit y/o shawl for my mother's friend now. It should be done sooner than I thought, except I keep dropping stitches. Which sucks. So I'll need to find a creative way to cover that. Beads, or bows maybe? Maybe little rosettes. She wanted "uber-femme", and Uberfemme she will get.
I also happened upon some Lana Grossa Pep at
The Tangled Web's sale bin
And plan on making a drop stitch shirt from it. Not lace, but more of a fishnet. I've got to draft a pattern for that sucker soon. It's so soft, it feels like my cat. In fact, when reaching into the bag, my brother thought it WAS the cat. Unfortunately, my cat is not pink and black. Oh well.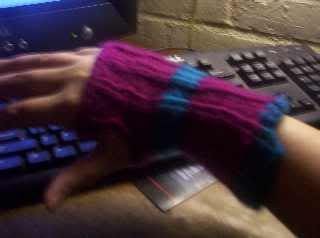 I also happened upon more yarn at Netzie's Nook. Remnants are good for my soul. I made up an armwarner (spring version this time. Unlike the Camo Ridgeback ones I did (which I don't think I've shown a picture of), these stop before my finger joints). It's good for the carpal tunnel I've got. My mother and i keep fighting for custody of it though. It's Fuscia Lamb's Pride Worsted and Turqoise Lambs Pride Bulky Remnant. One of these days I may make another, if my other wrist needs it. Or maybe I'll just make one for the sole purpose of mom not stealing mine.
So, on to the web store stock. Finally. I've been making up about 7-10 of each type of item, which I figure is a good number to start off with. I still plan to open on May 1. Please let me know what you think of my suggested prices. Too high? Too low? You guys are my test audience. I trust you enough.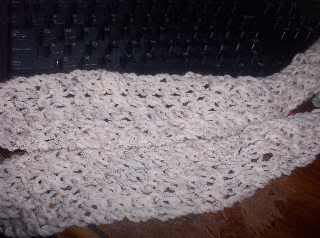 K1Y/O scarf. Much like the shawl, except I'm not knitting every other row. Done in LionBrand yarn...I forget the name right now. It's right on the tip of my tongue. Wool Ease! Wool Ease in color Wheat. I've still got about 2 pounds of it left. Ooohboy. $15

Another solstice scarf, which i believe you guys have seen before. Lionbrand Homespun in Corinthian. $10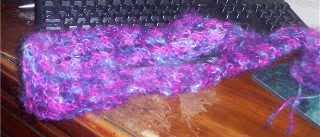 This cotton candy dream is pure mohair. The same stitch I'm doing on Mum's friend's shawl. K1,Y/o, knit every other row. It's fairly long, and it's MOHAIR! And gorgeous, might I ad. Although mohair sheds more than my cat. $40.
The red Lana Grossa Venzia scarf from hell. It's red. And fuzzy. Rockstar all the way $15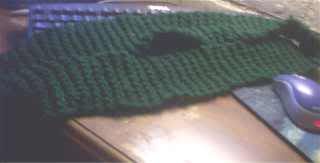 Green Scarf done in Lion Brand Chunky USA color PINE. Long, warm and comfortable. Just a plain garter stitch. $20.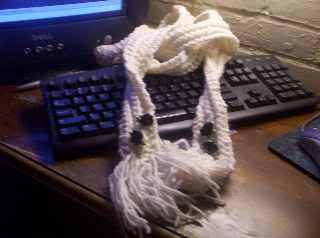 This is my baby, and I think I'm going to have to make one for myself. It's a long, skinny scarf, which apparently are in style now. It's white, and done in Mistake stitch rib. About six foot long, I'd wager to say. It's got two black rosettes sewn on the edges, along with fringe. This is so gorgeous, but so labor intensive. It reminds me of the "elegant gothic lolita" style. $60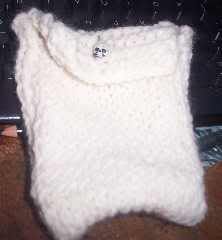 White LionBrand Chunky USA, an Ipod case with a skull bead closure. $8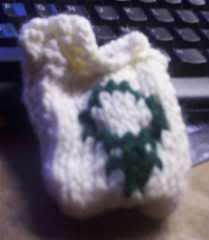 Lion brand Chunky USA white and Pine. An IPOD mini holder, with the "female" symbol on the front. $7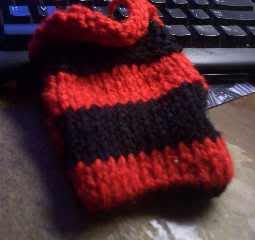 Striped Ipod cover, red and black. Caron Simply Soft black and Chunky USA ReddishOrange. $10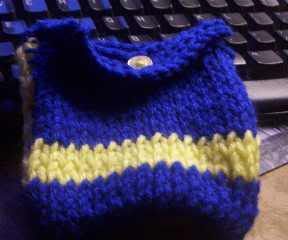 Blue and yellow Easter Ipod case. Random scraps I had left over. The back is completely yellow. $10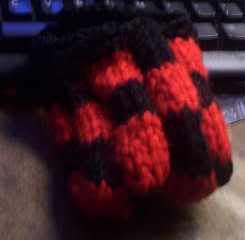 Checkerboard ripple Ipod Mini holder. Same as the red and black stripe yarns. $14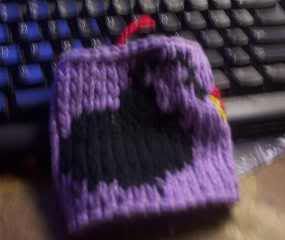 And finally, this little prototype....A wristlet with a bomb design. The pattern I drafted didn't come up too well, and it doesn't photograph well. So more tweaking on this baby.
Thanks for dealing with all the images! mwha!