Giving Head
Who could avoid a title like that? I finally got myself a styrofoam head for my business website so I could start taking photos. It was a plain white styrofoam head. $3.00 at a wig supply shop, which apparently are hard to come by around here.
Anyway, after some acrylic paint, she's all gothed up. Awww!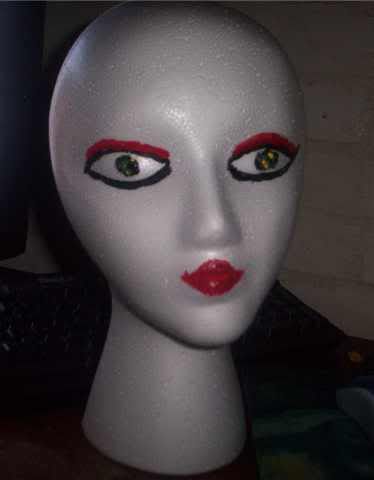 Isn't she cute?
I spent some time working on some knitting. Not much though. Mark's comissioned hat is almost done. I just have to add the dreadlocks. Drew's one dredlock, and the false ones I have to knit. I wonder if I felted them if they would look real??? Hmm.
So here are some pictures of the basic hat on my mannequin head. She needs a name. Any ideas?: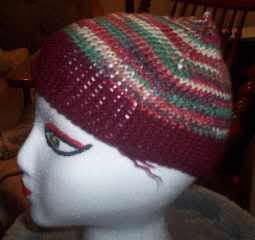 I can't get the colors just right on my photos. I don't know why that is. The burgundy was some yarn purchased looooong ago. The varigated were Mill Ends purchased at A.C. Moore. Anyone have any idea what brand that is? Or colorway? It's 100% acrylic. I want to say Red Heart, but it doesn't look like any Red Heart in the store. Caron, maybe?
I also went yarn shopping. Since we scrapped the shawl, and my
Mother
still needs a contest shawl, we found one in the new Vogue Knitting. We're (why do I say we? I!!!!) are going to widen and legnthen it into a shawl. It's the leaf scarf. We got some yarn at JoAnns. I had fun shocking my mother when she found out that TLC Cara Mia was $8.00 a skein. She nearly shat herself.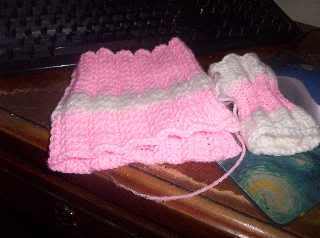 I also have knit up a couple new things for the website. A neckwarmer, and wristlet set in pink and white. I'm going to ad some lace to the wristlet, and ribbon to the neckwarmer. It'll be really girly and completely Elegant Goth Lolita.
My mother, for a change, spent more on yarn than I did. Considering we're in a tight financial situation right now, this was funny for me. Not so much for her. Here's the loot: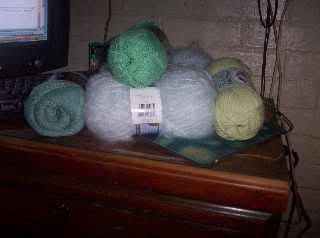 Two skeins of Patons Divine in Halo Blue. $5 a skein. Total of $10
1 skein of TLC CaraMia in Pistachio $8 a skein
1 skein of Lion Brand Cotton Ease in Pistachio. Unsure of the price.
1 skein of Lion Cotton in SeaSpray.
Then we had my shopping haul. All acrylics under $3.00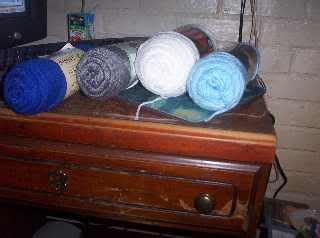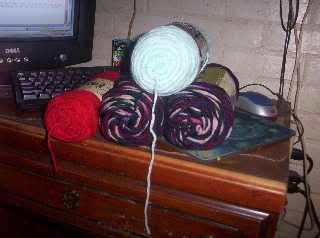 2 Skeins Caron Wintuk, 1 in Royal the other in Autumn Red
1 skein Lionbrand Chunky USA in Pacific Blue
1 skein Caron Simply Soft in Heather Grey
1 skein Red Heart Super Saver in White.
We then headed over to walmart to get the other beauties you see there. Each of the following clocked in at $1.50 each.
2 skeins of Mainstays Home in color 2942 "Old Time Country"
1 skein Red Heart Super Saver in Pale Green.
I also have the Mill Ends and Super Saver pink stuff from the A.C. Moore trip the other day. I'm buying quicker than I can knit.
We've got a knitting machine on layaway though. Which is good. Because if I'm doing this for profit, I need to up my manufacture.
Also, last time I'd forgotten to show you guys the best Ipod cover of all. The skull!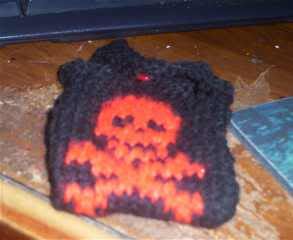 That pattern was a bitch to draft.
Coming soon:
Details on my PhillyKnits projects.
Cinnamon Bun hat
Finished Dredlock Hat