Yarn and smut
Yarnwise, it was a good weekend. Deglanwise, it was a good weekend. He had to leave early because it's supposed to start snowing something awful soon. Which is bumming me out, but we had a good day.
I met him at the train station, and we headed over to
Sophie's Yarns
Which he was very good about. He didn't even complain when I kept going back and forth oogling the yarn (almost as much as I was oogling him.) We left, and went to another store (
Passional
.) Didn't really stay for too long or look around that much. It's a fairly small store, which isn't a problem. It isn't too much of a problem until 10 people are in there. Then it's an issue.
Then, had a very pleasant lunch at
The South Street Diner
. Okay, kind of pleasant. We're teenagers, and horny as hell. It was madness trying to keep our hands off of each other. Now, I realize some of you are old enough to be my mother. And this is probably an offputting detail for some of you as well. So....if it is.....just disregard it. heh-heh.
We headed back up South Street, and popped into
Zipperhead
for some inspiration. They had a knit black top with a spiderweb cutout that I'm dying to draft a pattern for. Also the usual drop-stitch deconstructed stuff, which is a piece of cake. But I fell in love with the spiderweb top. And I'm determined to figure out how to make it.
Then we walked around for a little while longer, enjoying the sights, the smell of the sewer, and oh yeah, the people who either seem to have forgot the art of walking, or the ones who are pushy as all hell.
We stopped in Pearl Arts and Crafts. Three stories of craft supplies, I think I'd died and gone to heaven. I had about $15 on me though, and their yarn selection was horrid. I could have just as easily bought out their beads, though. But I didn't. I was good. That was yarn money!
We stopped in Condom Kingdom. I think the name pretty much describes it all. Condoms, sex toys, and novelty crap. I'll spare you the details of our purchases. This is neither the time, nor the blog for it. (Yes, I've got a separate blog for the sexploits. No, I'm not going to advertise it here. E-mail me if you have any interest. Otherwise, get back to knitting, you damn slackers).
We then went back up to Sophie's, and I finally made a purchase. Manos Del Uruguay color 43. It's a dark teal-turquoise color. 138 yards that I'm not sure I know what to do with. Originally I had wanted to do something felted, like the Letter Have it bag from stitch and bitch, but I also want to try out the newsboy cap from Stitch and Bitch Nation. So we'll see.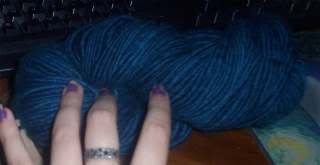 So later that night, while we were on a moonlight picnic (it wasn't so much a picnic as an excuse to find a secluded place alone...heh), he decided to give me my valentine's day gift, which is the ring you see in the picture. Just as a reminder of him, he said. It's really gorgeous, from an antique shop. Dead People's Things. ewww.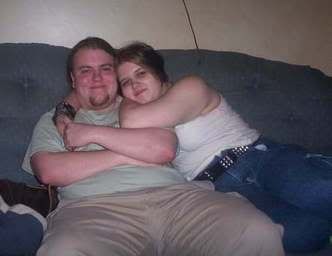 Here's a picture of us this morning, looking exhausted and disheveled and, frankly, gross and sweaty.
That is all.